ONCE UPON A TIME
IN LE TOUQUET…
Welcome to the Toy Factory
Dear visitor, do you remember last year, when we let you in on a big secret? Forget Lapland, the North Pole and other snowy destinations. Father Christmas and his elves are alive and well and living in Le Touquet-Paris-Plage.

"Every winter, the resort is lit up with wonderful fireflies giving a fairytale atmosphere, which I absolutely love. It's an ideal location to set up my toy workshop and of course, my home," he told us back then.

After spending the summer enjoying the delights of the Opal Coast (some say they spotted him speeding along on a land yacht, while others could have sworn they'd noticed him at a concert), it's now time for the toy workshop to reopen. Getting the reindeers ready, cleaning the workshop, ordering wrapping paper, briefing the elves, everything needs to be ready for the new season.

Once again, Father Christmas is opening his doors and revealing all his secrets to you. Come along for a magical ride!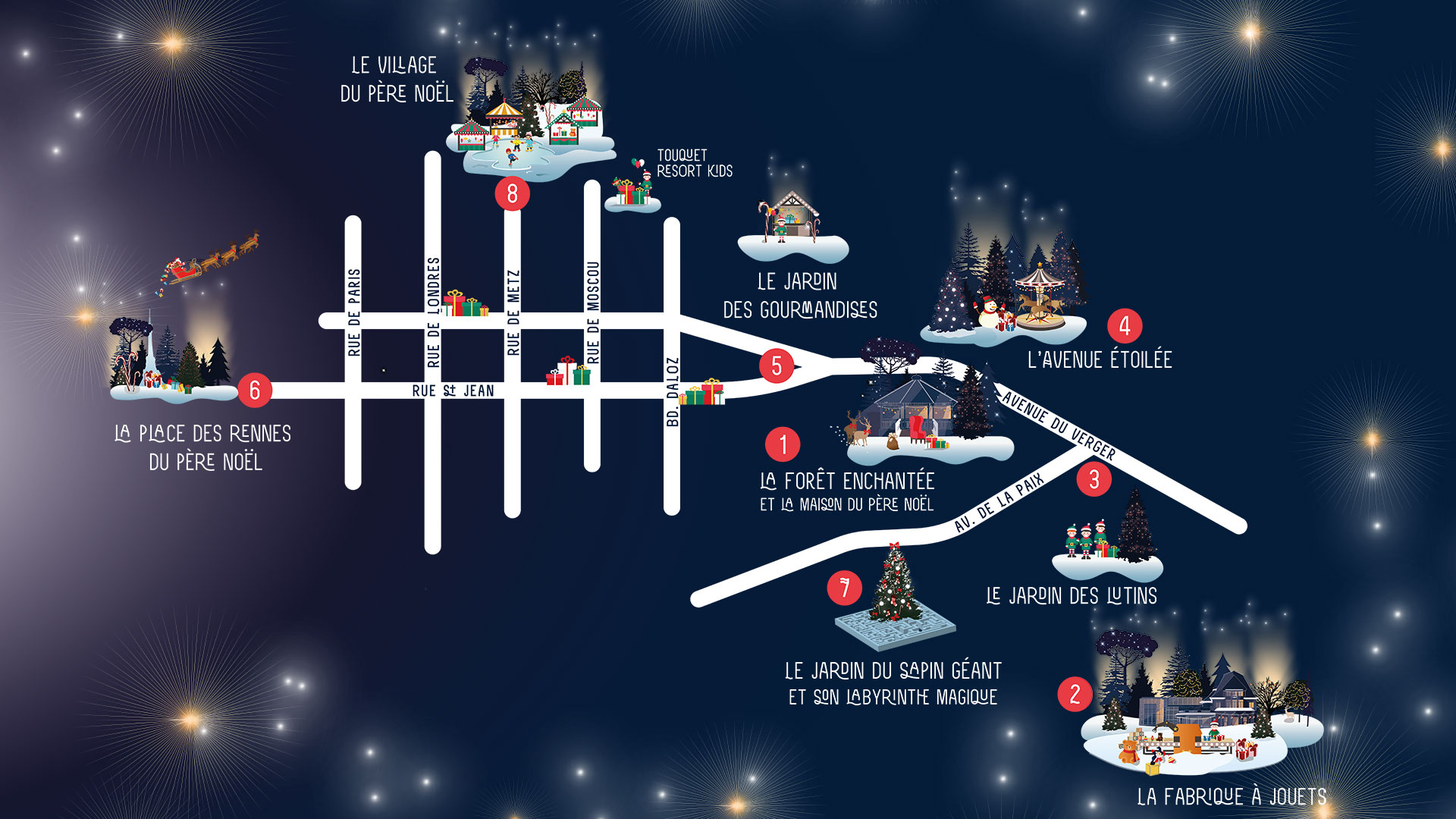 La Forêt enchantée et la maison du Père Noël
Avenue du Manège
This is where your adventure begins. With thousands of fireflies lighting the way, the Enchanted Forest holds many secrets.

If you're lucky, in the heart of the forest you'll find the head honcho himself: Father Christmas in the flesh, beard and all! Why not get a selfie with him and take the opportunity to hand over the precious letters carefully crafted by your little ones?

To warm yourselves up, enjoy a little treat at the snack chalet and then it's off to discover the creatures of the forest. Little ones can have a go on the chairoplane ride at the edge of the forest on "Avenue du Manège" (2 Avenue du Verger).

Continue your journey through the magical world on Avenue du Manège (2 Avenue de l'Hermitage) and head towards the Toy Factory (3 Palais des Congrès).

La Fabrique à Jouets
You are now entering the magical heartland. This is where it all comes together. In the "Palace of Possibilities", thousands of elves are hard at work making a multitude of toys to meet the wildest demands. Zébulon, Chief Elf Supervisor, told us:

"Our location is classified top secret. We use a number of magical techniques, which remain a closely guarded secret, but suffice it to say that a combination of imagination and talent, topped off with a twist of passion, is what keeps our fabulous factory going. But I must admit, the warehouse is starting to overflow! This is why some of our bigger pieces are kept in the garden, such as rockets, rocking horses and giant nutcrackers! Feel free to have a look. They're just waiting for the gift-wrapping phase that happens in the shop window. Hold on, I can hear some sort of commotion over there. The elves down there are the naughty ones, if you know what I mean! "

Go back on yourself slightly and take a left towards the garden with the giant Christmas tree and the magical labyrinth (4 Jardin d'Ypres).
The Polar Express
To help you to get around this fairytale world, the Magical French Railway Company (SMCF, in French) invites you on board its very special service, The Polar Express, which will transport you in comfort between the different attractions on offer.

Once on board, you have front row seats to make the most of the truly unique atmosphere. There are three stations where you can board the train: The Toy Factory (3 Palais des Congrès), Place Quentovic, Father Christmas around the world (6), and Place Étoilée (7 Place du Centenaire)

Le Jardin du Sapin géant
et son Labyrinthe magique
Once the talented elves have finished making the toys at the factory, each creation is carefully wrapped and placed under the giant Christmas tree.

This precious cargo is protected by a magical spell. Only a few elves, and Father Christmas himself of course, know which path leads through the labyrinth to reach the parcels. But you can always try your luck if you fancy a challenge! Along the way, you'll meet Elfie, the elf in charge of protecting the gifts. Who knows, maybe she'll help you find the exit, if you promise not to borrow anything!

Because on Christmas Eve, all the parcels need to be ready so that Father Christmas can load up his magical sleigh and head off on his rounds.

Make your way to the Jules Verne Garden (5 Jardin des Arts) and then Place Quentovic.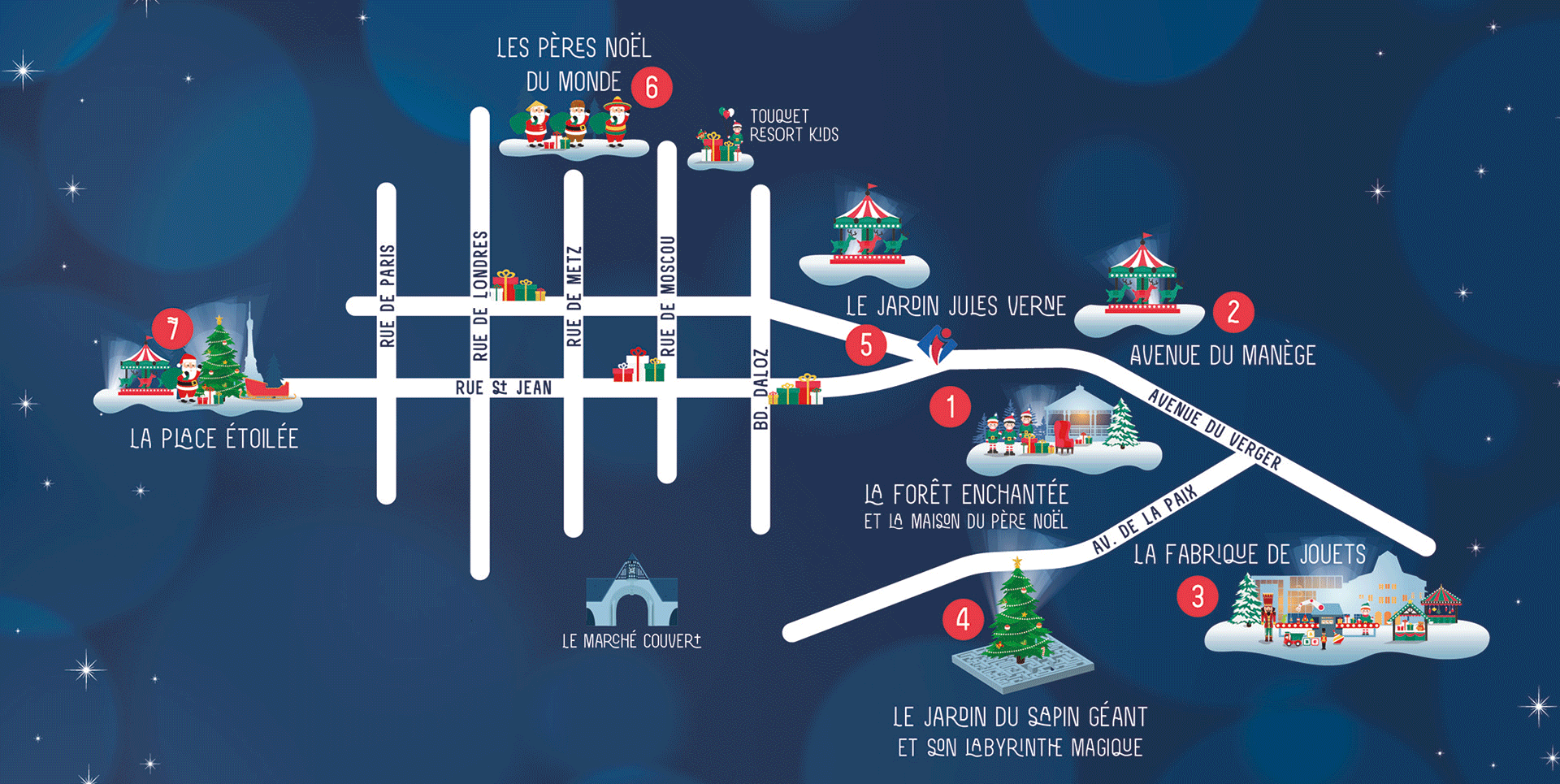 Le Jardin Jules Verne
Follow the five stars until you get to the Magical Tourist Office and the elves. This is where we reveal all our secrets for a magical Christmas at Le Touquet-Paris-Plage.
The Jules Verne ride, another of our elves' wonderful creations, is just a few steps away. Hop into a Nautilus or another mysterious contraption and enjoy an extraordinary ride. Your kids will love it!

In the middle of the garden after nightfall, another spectacle will come to life: the magical illuminated fountain.
Continue your journey towards Place Quentovic (6) and find out how Father Christmas gets ready for his trip around the world.

Le Père Noël
à travers le Monde
Father Christmas is a seasoned traveller. Who else could undertake a round-the-world trip in such a short time? It requires top organisational skills and, of course, a little magic. But there are some more mundane considerations: what do you pack when you're travelling through dozens of countries in just one night?

Father Christmas will reveal another of his secrets: to cater for all the different cultures he encounters, he has a made-to-measure, fully stocked dressing room. You will find four of the outfits he wears (among many others!). Gribouille, the Stylist Elf, is in charge of Father Christmas's wardrobe: "A sombrero and vibrant colours are the order of the day in Mexico, while a fur-lined hat and warm clothes are required for visiting Russia.

For the United Kingdom, we have a Bearskin hat, which never goes out of fashion, and a traditional coolie hat is de rigueur in China. Each year, we revamp and adjust Father Christmas's whole wardrobe to meet his needs." Once everything's ready and the gifts are all assembled, it's time to depart. Meet at Place Étoilée (7 Place du Centenaire) to witness the final stage before takeoff!

La Place Étoilée
That's it! Everything is ready. The gifts have been manufactured, wrapped and taken to the Place Étoilée before being loaded onto the sleigh. Father Christmas has finished packing his suitcase.

The reindeers are waiting patiently for their leader to arrive so that the crazy adventure can begin. Make your way to the Place Étoilée, where they will soon take flight. You can wish them a "bon voyage"!